Meet Alex Gillette, Billd's Lien Management Warrior
Published: May 15, 2020
Last updated: July 23, 2021
Alex GilletteLien Management
Hometown: Cypress, TX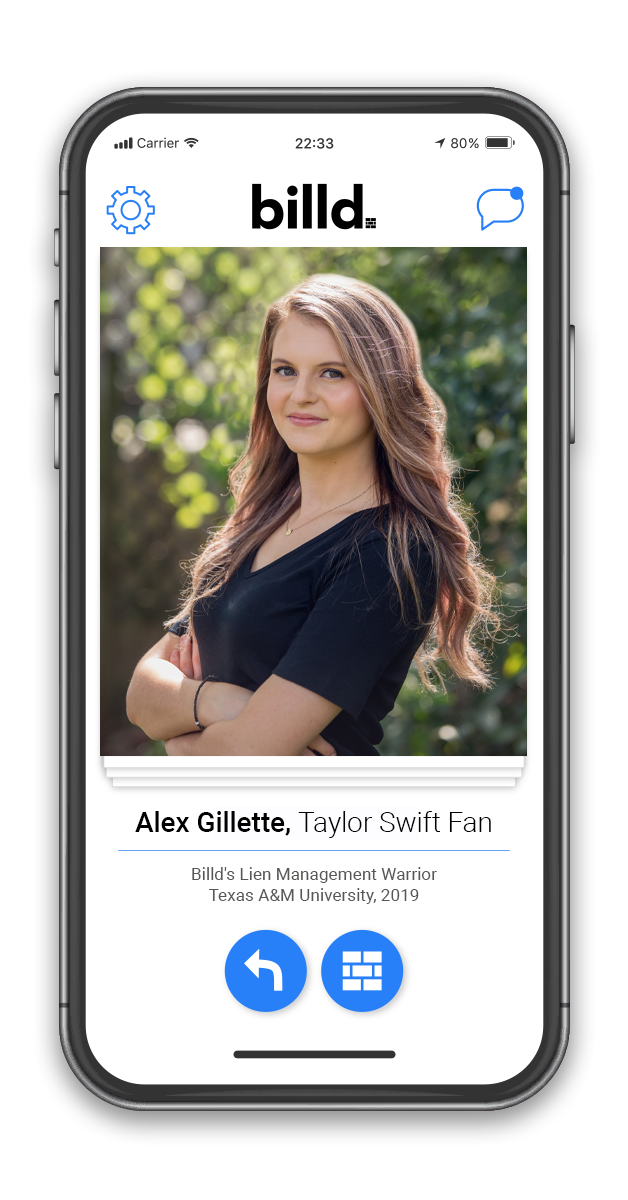 Dog person or cat person? Why?
Both! I grew up with cats and now I have a dog. I love both equally.
What do you do at Billd?
Lien Management
What does your typical day look like?
I spend my day reviewing projects, talking to customers and making sure that the approval process goes smoothly.
What is your favorite part about working at Billd?
The training and help provided by our coworkers while on-boarding.
Give us your 30 second Billd elevator pitch.
Hearing our contractors talk about how much Billd has impacted their business positively and allowed them to take on bigger deals.
Describe your co-workers in one word.
Russ- yoga
Jon Placa- gifs
Max- caffeine
Ashlie- guns
Mikayla – mick-ki-la
Jon katz- targeting (aka marketing slang)
Jesse – patagonia
Chris- coffee
Manasa – ghost
Ginger – Frenchonionsoup
What are three words you'd use to describe yourself? 
Passionate, goofy, and confident.
If you could have dinner with anyone (dead or alive) who would it be?
T-Swift
Who is your inspiration? 
My grandpa- He's 89 years old and still going strong.
What is your favorite memory?
Standing on my family's dock in Maine.
What's #1 on your bucket list?
Switzerland!
What are you binge-watching right now?
Little Fires
Go to karaoke song?
Child's Play by Drake
What makes you happy?
My golden retriever, Travis