Meet Russ Briscoe, Billd's Supplier Partnership Pro
Published: June 26, 2020
Last updated: April 19, 2022
Russ Briscoe DIRECTOR OF SUPPLIER PARTNERSHIPS
Hometown: Yonkers, NY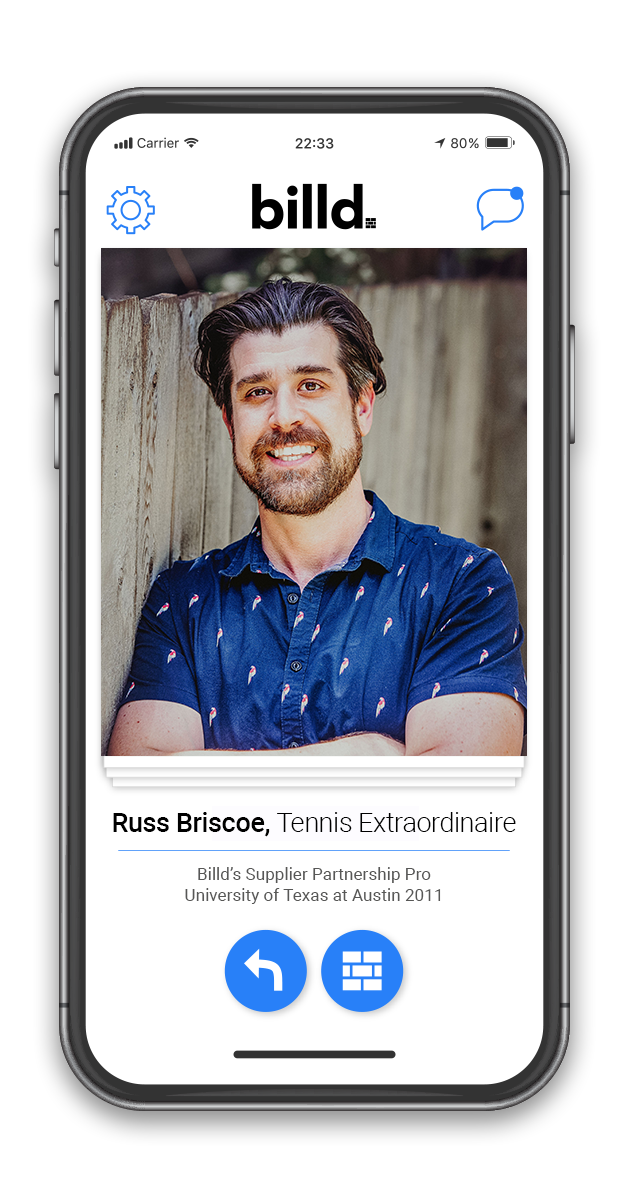 Dog person or cat person? Why?
Dog. I'm always on the lookout for loyalty and unbridled optimism.
What do you do at Billd?
I head up Billd's Partner Supplier Program.
What is your favorite part about working at Billd?
Our office and burgeoning company culture. A great, great part has been to see things develop from almost the very beginning, it's been exceedingly interesting and really joyful. I remember interviewing with Chris and Jesse before the furniture.
What's something new that you've learned since being at Billd?
Aside from a metric ton about the financial realities of running commercial construction jobs, I'd say I've learned a lot about renewing focus. My most immediate role before Billd was overseeing a lot of moving parts / different functions within a growing start-up. Lasering my focus back to the functional contribution of business-to-business sales has brought things "all back home" for me. A zebra never loses its stripes. I'm able to help Billd grow in this seat right now and thrilled to do so.   
What does your typical day look like?
Conferencing with Suppliers & Distributors at various stages of integrating our payment offering into their pay-mix for Contractors. Cross-selling to Contractors and supporting our Contractor Account Executive team on specific purchase opportunities with currently activated Billd Partner Suppliers. Working together with our Marketing team on ways to better understand and speak to our customers.
What do you think makes Billd special?
We're a construction company. To the core. What we're working on is building our business from the ground on up. And we're doing it with the mindset, moxie, and hustle of the guy/gal harnessed on a scaffold. We're here to work and do the job well.
What's one goal you hope to accomplish with Billd in the future?
Billd will be an integrated payment option presented as an available, standard method of payment in every major commercial material supply company in the United States.
What are 3 words you'd use to describe yourself?
Thoughtful, steady, genuine.
Give us 3 fun facts about yourself that your coworkers may not know about you.
I co-founded an adventure travel company called GlobeKick. Before joining Billd, I curated and led trips with travelers around the world for three years. I love to cook, especially Italian cuisine. Although I'm a bit rusty these days, I used to be an absolute gun on the tennis court.
Who is your inspiration? 
James Bond.
What would you do with a million dollars?
Make another million dollars. And with that 2 million dollars, I'd start a non-profit helping the Downs Syndrome community.
What's #1 on your bucket list?
Visit the Shaolin Temple in Japan.
What are you binge-watching right now?
The Spy on Netflix.
What can't you live without?
Coffee.
What makes you happy?
Helping people.
Go to karaoke song?
Ring of Fire, Johnny Cash.
Give us your 30 second Billd elevator pitch.
Billd solves the gap in repayments that often impacts a Contractor and Supplier's best working relationship. Billd pays the Supplier upfront, on behalf of the Contractor, while then turning around and offering that Contractor 120 day repayment terms directly with Billd. Suppliers get paid upfront, thus offloading repayment risk and the cost of outstanding capital, while Contractors get flexible terms that more realistically match the payment-cycle of a commercial construction job. 
About Billd: At Billd, we provide a payment solution that enables commercial construction contractors to free up cash for material purchases while enjoying the flexibility of 120-day payment terms. You get financing for commercial materials upfront with the freedom to pay it back at your own pace. Learn more about how we can help eliminate your company's cash-flow problems so you can win more bids and grow your business.
Learn More