Manasa Bowenpallysalesforce admin
Hometown: Karimnagar, India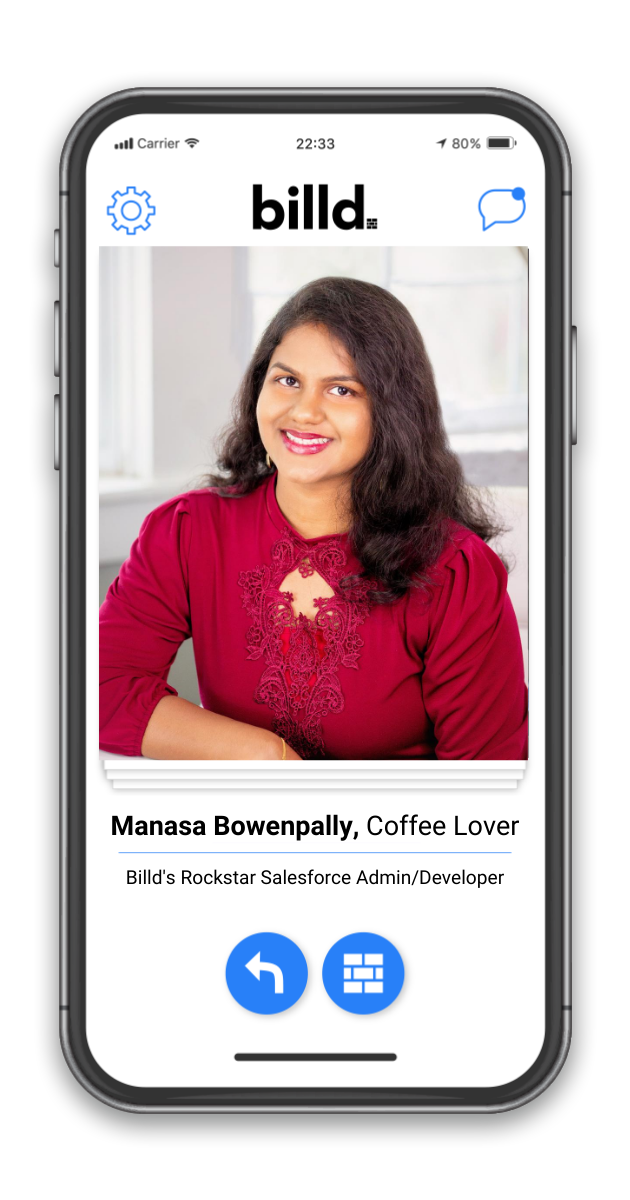 How long have you worked at Billd?
15 months.
What is your favorite part of your current role?
I love building all the requirements and enhancements for the team here. I enjoy working with the team and achieving all the technical issues.
What do you do at Billd?
I am the Salesforce Admin/Developer at Billd.
What does your typical day look like?
I am mostly in communication with the team to make sure all the customizations work as requested and analyzing the business scenarios and creating logical solutions.
What's your favorite part about working at Billd?
The team is amazing and is focused on the most important aspects of the business.
What's your favorite Billd memory?
The team outing on Lake Travis!
What are 3 words you'd use to describe yourself?
Ambitious, determined and hardworking.
Give us 3 fun facts about yourself that your coworkers may not know about you. 
My brother fed me a tiny cockroach once.
I don't know how to ride a bicycle.
I secured first during my Bachelors degree.
What would you do with a million dollars?
I would donate half to orphans. The rest I would use to travel and invest in property.
If you could have dinner with anyone (dead or alive) who would it be?
I would have dinner with Vijay Devarakonda, an Indian Film Actor.
Who's your inspiration?
My grandfather and my dad.
What are you binge-watching right now?
Game of Thrones
Dog person or cat person? Why?
Dog person. I started liking dogs recently and that's because of Dale and Molly at Billd.
Go-to karaoke song?
Closer|Kabira by Vidya Vox.
What's #1 on your bucket list?
Skydiving
What can't you live without?
Goals, coffee and my dear husband.
What makes you happy? 
Time spent with family & meaningful friends.